08/18/23 – 2023 Fall Esports Enrollment Information
August 18, 2023 Athletic Department Blog Updates
Print
Good afternoon, everyone. I hope your school year is getting off to a great start!
Many of you have already done so, but member schools interested in participating in the 2023 Fall Esports season are encouraged to sign up and begin registering for the upcoming season. The registration deadline for the fall season is Friday, September 22.
Titles offered for the fall include:
Join us next Tuesday, August 22, 2023, from 4:00 PM – 5:00 PM ET, where our esports partner and provider, PlayVS, will be conducting an Intro to Esports Webinar to discuss the benefits of esports, what your school needs to get started, and review important dates for our upcoming Fall 2023 season. This webinar is recommended for all interest and experience levels. You can RSVP HERE for the August 22 webinar. If you're unable to attend, but would still like to review the webinar content, please RSVP and a copy of the webinar will be sent to your inbox after its conclusion.
If you are ready to get your esports program started now, PlayVS is available to chat with you. Please complete the Esports Interest Survey so we may better understand your school's needs before the Fall 2023 season and a member of their team will follow up to connect with you.
Important Dates for the Fall:
Weekly Schedule
Mondays: All titles

Practice days are optional during the regular season on Mondays from 4-7 PM local time.
Coaches and players will receive in-app notifications and coaches will be able to join the practice queue.
This is not required and does not affect team rank.

Tuesdays:

League of Legends, Splatoon™ 3

Wednesdays:

Super Smash Bros.™ Ultimate, NBA 2K

Thursdays:

Rocket League, Madden, Mario Kart™ 8 Deluxe, Hearthstone
Reminder: There can be no Esports matches/practices before 4:00 PM CT / 5:00 PM ET for schools on the Kentucky Department of Education's K-12 Network. Note: If two Eastern Time Zone schools want to play at 4 p.m. ET instead of 5:00 p.m. ET, they can reschedule their match five days in advance to play at 4:00 ET.
Update on PlayVS Scheduler:
The PlayVS match scheduler now runs 5 days in advance of game day to allow teams to scout, practice, or reschedule: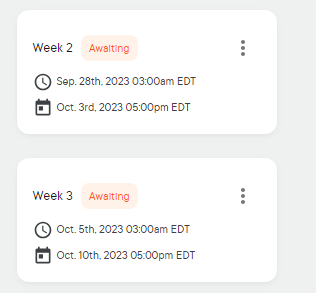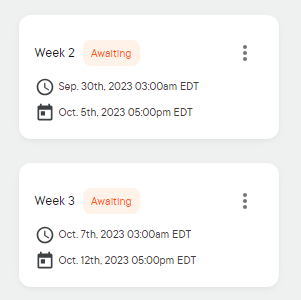 Note that the above information and more can be found on the PlayVS/KHSAA High School Fall '23 schedule page
PlayVS Contact Information
PlayVS – Kentucky – Includes signup information, standings, and state-round bracketing for each league
For new and returning schools → kentucky@playvs.com
Tech/Website Help → support@playvs.com
Billing Questions → accounting@playvs.com
This communication is archived at
-KHSAA-
About the Kentucky High School Athletic Association
The Kentucky High School Athletic Association was organized in 1917 and is the agency designated by the Kentucky Department of Education to manage high school athletics in the Commonwealth. The Association is a voluntary nonprofit 501(c)3 organization made up of 290 member schools, both public and non-public. The KHSAA awards 229 state championships to 59 teams and 178 individuals in 13 sports and six sport-activities, funds catastrophic insurance coverage for its more than 109,000 rostered member school student-athletes, provides coaching education and sports safety programs for more than 12,000 coaches and licenses and facilitates the distribution of training material for over 4,000 contest officials.
Print