07/26/12 – Officials Manual Notes
July 26, 2012 Football Blog Updates
Print
Greetings to all. Hopefully you are all inside, out of the heat, but excited and getting ready for the 2012 season. Just a few mechanics notes.
Frankly, its been a little disappointing the last couple of years to watch our crews at the finals, not in terms of their judgement, but with mechanics inconsistencies. So, once again this year we have supplied all officials with the NFHS Officials Manual. Other than a VERY FEW deviations, that I will spell out below, there is to be no deviation. No matter how much pressure you get from veteran officials, particularly those that work other levels of football, these mechanics are to be used. You will hear more about it at the Rules Clinics when you watch them online, but until then, here's a few highlights.
There have been LOTS of changes in the Manual. Many of the things that we were doing when we published our own manual have now been adopted by the committee. So thank you for sticking to your guns, and doing what was asked. Here are the main points –
Use of the NFHS Manual is required use by all officials in all contests with four or five officials
Deviations (minimal) will be published on football blog on KHSAA web site (in this blog)
All Local Associations must consistently use the Officials Manual and it is extremely likely that postseason assignments will be adjusted based on that compliance
Some fairly major changes for 2012, many safety and coverage based. An example is the new kickoff coverage, which is solely being done to get more coverage (and it is felt by the Manual Committee, more APPROPRIATE coverage) near the area where the most problems have been occurring.
KHSAA Points of Emphasis
Use of NFHS Manual as printed with very few exceptions as noted
Wing officials – Heels on sideline, NOT off of the field of play, and not out onto the field of play
Referee – Get proper depth, but NEVER laterally outside of the tight end. This is 5-person not 7-person coverage, and you have sideline to sideline. And none of this mechanic where a few have had their backs parallel to the sideline which is in no way appropriate or proper.
Umpire, shoulders square to LOS, consistent depth, behind linebackers, able to move alternate from their movement
Major Changes
Five person kick coverage has changed, and will be utilized consistently throughout the state. R no further in than the numbers, on the goal line, with all others available to adjust either way as listed below.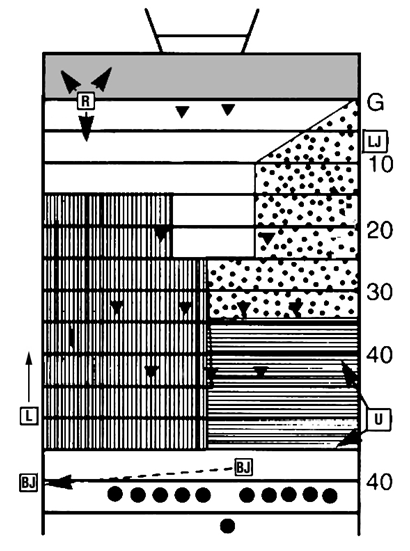 Other changes made by the Manual Committee that they considered major include:
The second half choices will be done through communication with the head coaches. Captains are no longer brought to the center of the field.
When the ball becomes dead near the sidelines and the first down is gained, the covering official will stop the clock. Crew communication will notify the referee when to wind the clock following the ready-for-play signal if the player was inbounds.
4 Person Kickoff
For those non-varsity games where four officials are used, the kickoff diagram has also changed, as per below
Approved Deviations from Officials Manual.
These are the only approved deviations from the manual. All of these will be detailed in the upcoming rules clinic.
Scoring Scrimmage Kick Coverage (Pages 46-48) –

15 yard line as LOS and in – Line Judge and Linesman in normal position. Umpire, under upright on Line Judge side of goal post
Outside 15 yard line LOS – Coverage per manual

Measurement for First Down – Back Judge will move to front stake. Line Judge will ensure ball does not move and confirm to L where clip is to go
Coin Toss – L and LJ remain at sideline to enforce player restrictions
Umpire (General) – Spot and release to position, instead of staying too long over the ball (unless hurry up offense)
Corrections
Unfortunately with 7 books, there will be publication errors. The following corrections have been issued.
Page 14, Umpire, L, LJ, BJ and ALL Officials
Note that in some cases, the manual did not reflect the national change to eliminate bringing teams back out at halftime. Those editorial corrections have been made
Page 25, Line Judge (Kickoff) – Change K to R in number 5, bumping umpire to K on anticipated short free kick
Page 31, Keys – Diagram does not match verbiage on Strength to L's side. Verbiage is correct, disregard diagram
Page 32, Keys – Diagram does not match verbiage on Double Wing. Verbiage is correct, disregard diagram
Page 38, L and LJ, delete winding the clock twice and then stopping it as that mechanic has been removed
Thanks for reading, and I look forward to each of you having a fantastic season!
Print